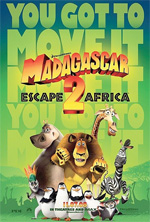 *** THIS REVIEW CONTAINS SPOILERS ***
Madagascar - Escape 2 Africa
Written by Etan Cohen
Directed by: Eric Darnell, Tom McGrath
Starring the voices of: Ben Stiller, Chris Rock, David Schwimmer, Jada Pinkett Smith, Sasha Baron Cohen, Cedric the Entertainer, Bernie Mac, Andy Richter, Alec Baldwin
Madagascar 2 is an entertaining but ultimately unnecessary film. The original film in 2005 introduced us to all of this film's primary characters -- Alex the Lion, the "King of New York City" (Ben Stiller), Marty the Zebra (Chris Rock), Melman the hypochondriac giraffe (David Schwimmer), and Gloria the hippo (Jada Pinkett Smith). That film, essentially Marty's story, features the characters' adventures after escaping from the Central Park Zoo and getting boxed up for shipping to Africa but washing ashore in Madagascar by mistake.
The new film features all the regulars, plus Sasha Baron Cohen's bizarre King Julien, and the squad of black ops penguins, attempting to fly the wreckage of a crashed plane from Madagascar back to New York. The plane manages to make it as far as the African continent before crashing. While the penguins work with some erudite monkeys to attempt to redesign and reconstruct the demolished plane, Alex, Marty, Melman and Gloria explore, discovering that they've crashed into an African wildlife preserve. This is Alex' film, as he's reunited with the parents from whom he was stolen as a cub -- his father is the "King" of the preserve. Marty connects with a herd of dozens of other zebras -- all humorously voiced by Chris Rock and leading to numerous "identity" issues. Melman's medical expertise from dealing with his own imaginary health issues leads him to becoming the local witch doctor, and Gloria feels the urge to find "the right guy" and settle down...even if that's Moto Moto, the largest male hippo of the preserve. When Alex, manipulated by one of his father's rivals, fails a rite of passage test and his exiled from the preserve, he must find a way back into his parents' good graces. Meanwhile, each of the supporting cast gets his or her own moment in the spotlight, too.
This film actually felt like it had a stronger storyline (or interconnected storylines) than the original, however the sense of "freshness" wasn't there. Also, the sheer outrageousness of the first film -- the Tex Avery style of the animation -- seemed toned down for the 2nd go-around. The voice work remain top-notch, particularly Ben Stiller, Bernie Mac (as Alex' father Zuba -- one of his final film roles) and Alec Baldwin as Makunga the rival. My personal favorite characters -- the penguins -- get plenty of screen time, and lots of funny bits. But overall, this film was something of a let-down from the sense of originality that came across in the original Madagascar. It's entertaining, but it's an entertaining retread.
I'll give it 2 1/2 stars out of a possible 5. Fun, but nothing to rush out to see, and it'll play well on the small screen as well as the big screen.