SKOW SERIES OVERVIEW
SKOW chronicled the adventures of the crew of the itinerate garbage barge named Skow, as they sailed the eastern coast of the United States looking for locations to dump their cargo of refuse and take on new loads. The Skow's crew was comprised of "Skipper" Jacob 'Jake' Skowinski, a second-generation trash hauler who had bought the Skow from his father Pete (Petros Skowinski). Pete was an engineering genius who had very little mind for business. Following the sale of Skow to his son, he continually referred to himself as being "retired", yet he nevertheless remained aboard his "lady" serving as ship's engineer under the command of Jake. Pete's estranged daughter (and Jake's younger sister) Stephanie Skowinski-Elliott reluctantly joined the crew of the Skow in the pilot episode, brought in by her brother Jake to run the "business" end of the family business. Although at odds with her irascible father for years, Stevie is still recovering from her own broken marriage, and for once finally has something in common with Pete -- who had a nasty break-up with his wife of 35 years. Also joining the crew in the pilot is Brad Lance, an ex-Marine who's suffered some personal tragedies in recent years and is looking for a demanding job he can devote himself to in order to put his past behind him. The only other regular crewmember is Jim, the main cargo handler, whose last name is never given on the series. Jim has a mysterious past of his own, which occasionally surfaces, and the actor who played him (Jim Varney) was frequently seen portraying other minor and major guest characters on the show.

Other recurring characters included EPA agent Ramsey Peck, who is assigned the case of proving that the Skow crew are guilty of illegal dumping, and Peck's boss Oscar Deane, a corrupt EPA official being paid by the Skow crew's main competitor. 'Rick' was the main comic-relief (besides Jim) -- a pet lizard kept aboard the Skow by Jake. Rick was so afraid of the water he was frequently seen wearing a custom-made life preserver. Though menacing in appearance, Rick was a coward at heart and would run and hide amidst the garbage at the slightest sign of trouble. The final cast members, who joined the crew late in the second season, were Tawny and Abigail ("Abby") Murdock and their surprisingly young looking mother, Jacqueline ­ three ex-patriate Americans who were running a sport fishing business in Jamaica until their boat sank and they were rescued by the Skow crew.
Season One: NBC, Fridays, 7:00 p.m. CT
1. Skow [2 hour pilot] (February 27, 1987)
(W) Donald P. Bellisario; (D)
Theme Music: Mike Post & Pete Carpenter
Guest Cast: Ronny Cox [Oscar Deane], Lance LeGault [Ramsey Peck]
Originally intended to air in the fall of 1986, but pushed back to become a mid-season replacement. The Skow crew is framed for illegal garbage dumping off New York by EcoCorp, a high-tech industrial garbage processing firm which is in competition. All the characters are introduced, and Brad and Stevie join the crew; Stevie is Pete's daughter from a short-lived marriage, and he and his estranged wife hate each other. Oscar Deane, a corrupt EPA official on the take for the high-tech firm, puts EPA agent Ramsey Peck on Skow's trail. Varney plays multiple supporting roles in the pilot; this continues throughout the series. 'Rick', Jake's pet life-preserver-wearing lizard is introduced.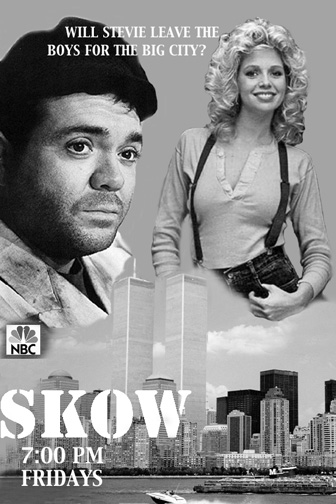 2. Garbage In, Garbage Out (March 6, 1987)
(W) ?; (D) ?
Guest Cast: Shannen Doherty [Megan], Jim Carrey [Mitchell Elliott III], Lance LeGault [Ramsey Peck]
Skow docks in Boston and takes on Boston Harbor garbage. A young woman, Megan, who stowed away while the ship was in New York, is about to give birth and is rushed to the hospital where Stevie's ex-husband Mitchell Elliott III works. EPA agent Peck is in the same hospital, recovering from an infection acquired from Skow's garbage, and is soon hot on their trail.
3. One Man's Trash Is Another Man's Treasure (March 13, 1987)
(W) Donald P. Bellisario; (D) ?
Guest Cast: Fred Savage, Lance LeGault [Ramsey Peck]
A very special episode, generally considered the best of the series. A young runaway (Savage) with a fatal disease complicates matters as the crew tries to find a place to dump Boston's garbage. The runaway accidentally falls off the dock and is rescued by Jim, who takes a liking to him. Taking on additional medical waste from Norfolk, Virginia beaches, the episode concludes with the child being accidentally injected by a mysterious antidote contained within the collection of medical garbage and having his disease cured. Peck arrives at the hospital to find a healthy child, but no trace of Skow.
4. You Can Tell A Lot About A Man By The Garbage He Keeps (March 20, 1987)
(W) ?; (D) ?
Guest Cast:
During a brief stopover in Atlantic City, New Jersey, the Skow crew encounter Jim's evil twin Tim (Varney in a dual role), whom Jim hasn't seen in over 10 years. Tim proceeds to frame Jim for a con game he's been running on a mob-owned casino, and Brad and Stevie are forced to pose as newlyweds as part of a plan to save Jim from mob execution. In the end, Tim manages to escape from both the mob and federal agents, who both want to get their hands on him.
5. Ghost Skow (March 27, 1987)
(W) ?; (D) ?
While traveling along the fringes of the Bermuda Triangle, the Skow encounters an abandoned scow. During the course of the episode, the Skow crew attempts to salvage the abandoned scow, and transfer their load of garbage (which they've had since the pilot) to the ghost scow, and take both in tow. Soon a mysterious cloud envelops the ghost scow and its load, and the towline goes limp as they both disappear; a flight of Avenger aircraft (Flight 19) is briefly seen overhead. (Shown out of order by the network; should have aired after When Garbage Is Outlawed, Only Outlaws Will Have Garbage.)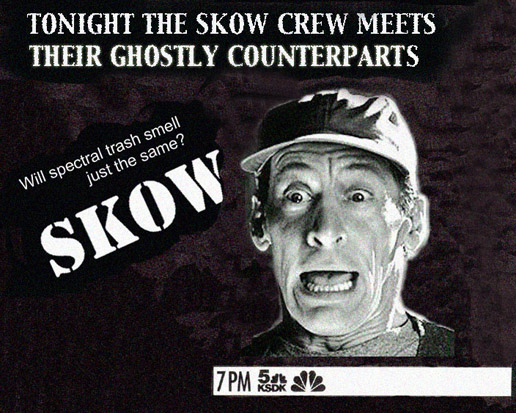 6. Digging Up Trash (April 3, 1987)
Guest Cast: Deborah van Valkenburgh, Charles Napier
(W) ?; (D) ?
A nosy woman reporter (van Valkenburgh) is on vacation in Ridgeville, Georgia as the Skow crew attempt to make a trash deal there. Brad soon gets in trouble while defending the woman, and is harassed by a corrupt redneck sheriff (Napier).
7. When Garbage Is Outlawed, Only Outlaws Will Have Garbage (April 10, 1987)
(W) ?; (D) ?
Guest Cast: David Rappaport, Lyle Alzado
David Rappaport guest stars as an eccentric Florida drug lord who hires Skow to haul his garbage out of Daytona Beach.
8. The Pirates Of Pensacola (April 17, 1987)
(W) ?; (D) ?
Guest Cast: Charles Rocket [Biff Lance], John Saxon [Robert Ballantine], Lance LeGault [Ramsey Peck]
Brad's mysterious brother Biff (Rocket), thought to be dead, shows up in the Caribbean with thugs riding jet-skis hot on his trail. As Brad and Biff try to patch things up (and Stevie becomes attracted to them both), the EPA agent closes in, as do the thugs. The episode ends with Biff's speedboat exploding and him apparently dying in the explosionalthough no body is found.
9. Meaner Than A Junkyard Dog (April 24, 1987)
(W) ?; (D) ?
Guest Cast: Tim Conway
Conway is the new owner of a sugarcane plantation on Martinique, and an old friend of Pete's. He asks the crew for help ­ voodoo-created zombies are apparently haunting his plantation! (originally scheduled to air around Halloween).
10. Grenada, Mon Amour (May 8, 1987)
(W) ?; (D) ?
Guest Cast: Terri Hatcher
This episode is filled with flashbacks, as Brad recalls his part as a marine in the American invasion of Grenada. We learn more details about his mysterious past, including a lost love (Hatcher).
11. Run Silent, Run Garbage (May 15, 1987)
(W) Donald P. Bellisario; (D) Ivan Dixon
Guest Cast: Kai Wulff [German commander], Judson Scott [German chief engineer]
First of three parts. While off the coast of Venezuela, the Skow weathers a hurricane with strange electrical effects which render the crew unconscious. After the storm they encounter a life raft containing a ten-year-old boy, Billy, who claims a submarine sank the pleasure yacht he and his family were on, and insisting the year is 1945. A World War II German sub surfaces and Nazi SS officers board Skow, searching for salvage to repair the sub and medical treatment for their ailing chief engineer. Pete is forced to help repair the sub's mechanical problems. Recalling the treatment of his Polish family in the war, Pete "fixes" the sub. Meanwhile he overhears the commander ordering the Skow to be sunk once the sub is repaired.
12. Run Silent, Run Garbage Part II (May 22, 1987)
(W) Donald P. Bellisario; (D) Donald P. Bellisario
Guest Cast: Kai Wulff [German commander], Judson Scott [German chief engineer], Hoyt Axton [William Granville]
Picks up immediately where part one left off. The Skow crew learns the Nazis fled Europe with stolen gold, headed for a Nazi base in South America. Aided by Jim, who hid from the Nazis when they boarded the Skow, the Americans escape from the sub and return to their ship as another storm moves into the area. Billy is washed overboard, the German sub begins foundering and the Skow crew is once more rendered unconscious, awakening in the present with no sign of Billy or the submarine.
Season Two: NBC, Tuesdays, 7:00 p.m. CT
13. Dead In The Water [season premiere] (September 8, 1987)
(W) ?; (D) ?
Guest Cast: Hoyt Axton [William Granville], John Calvin
The Skow crew assist William Granville, a hunter of Nazi gold, in salvaging a sunken WWII German submarine off the coast of Venezuela, which has been recently uncovered by a hurricane. They find themselves in competition with the vengeful son (Calvin) of the sub's commanderwho seeks to use the vessel's wartime treasures to finance a new Nazi movement.
14. Garbage Du Jour (September 15, 1987)
(W) ?; (D) ?
Guest Cast: Stephen Collins, John DeLancie
The Skow is hired to unload the trash from a luxury liner. An explosion in the liner's engine room leaves the ship powerless in the path of an approaching storm. The liner begins foundering, with fire threatening to ignite an illegal cargo of explosives.
15. Memory Dump (September 22, 1987)
(W) Donald P. Bellisario; (D) ?
Guest Cast: Charles Rocket
While off the coast of Nicaraugua, Brad's mysterious brother Biff, thought to be dead (again), shows up; he is now a gunrunner for the Contras. There is a slight complication, however. He has amnesia and doesn't remember the crew of Skow or his brother.
16. Disposable Income (September 29, 1987)
(W) ?; (D) ?
Guest Cast: Lance LeGault [Ramsey Peck]
The Skow passes through the Panama Canal in order to obtain lucrative contracts in the Pacific. The crew inadvertently become involved in the drug trade, with Peck hot on their trail.
17. Do You Know The Way To San Isidro? (October 6, 1987)
(W) ?; (D) ?
Guest Cast: Castulo Guerra [Generalissimo Manuel Guerrera]
Adventure in a pseudo-Central American country as the Skow crew become involved with a rebel movement to overthrow dictator Guerrera.
The series was pulled from the line-up following this airing. The final three aired episodes ran during the following March re-run period.
Season Two (continued): NBC, Tuesdays, 8:00 p.m. CT
18. When You Haul Garbage, You May Have To Break A Few Eggs (March 1, 1988)
(W) ?; (D) ?
Guest Cast: Charles Nelson Reilly
Adventure on the west coast of Mexico, near Acapulco. While taking a badly needed vacation, the crew become involved with a con man (Reilly) who is after a Fabergé egg brought to Mexico by the only surviving member of the Russian monarchy, Anastasia. Crystal Murdock and her daughters Tawny and Abigail have joined the crew of Skow as deckhands (having been rescued from their sinking boat during the unaired episode Jake And The Garbage Man).
19. Biker Trash (March 8, 1988)
(W) ?; (D) ?
Guest Cast: Jan-Michael Vincent, Dennis Burkley
While passing along the coast of California near Los Angeles, the Skow docks and the crew are terrorized by a biker gang (led by Vincent).
20. Old Black Water (March 15, 1988)
(W) ?; (D) ?
Guest Cast: Lance LeGault [Ramsey Peck]
The Skow is carrying an experimental remedy for a massive Alaskan oil spill on its trek up the western Canadian coast (final aired episode).
Four episodes were filmed but not aired by the network. Nine more episodes were contracted for but not filmed, although scripts were written. Included among the scripts were another appearance of Jim's evil twin, who is stealing military secrets; an encounter with cannibals on a (nearly) deserted island somewhere in the Pacific; and the episode that would have been a season cliffhanger.
A small but loyal fandom built up around the show for a few years, generating a Skow letterzine and several Skow fiction fanzines.
UNAIRED EPISODES
206 The Garbage of Christmas Past
(W) ?; (D) ?
Guest Cast: Lance LeGault [Ramsey Peck]
Delirious from an illness he picked up in while in Panama, EPA agent Peck is shown visions of his previous encounters with the Skow crew by an apparition (with clips from previous episodes), in order to show him how wrong he has been in pursuit of these people. Originally planned to air near Christmas.
207 For Pete Skow
(W) ?; (D) ?
Guest Cast:
Story told from the viewpoints of each of the crew of the events leading up to Jake's injury, as he appears to be dying.
208 Jake And The Garbage Man
(W) Donald P. Bellisario; (D) ?
Guest Cast: Anne Francis [Jacqueline Murdock]
The Skow crew rescue Jacqueline 'Jake' Murdock and her two gorgeous daughters, ex-patriate Americans who were running a sport fishing business in Jamaica, when Skow happens upon their sinking boat. With the source of their income now lying on the ocean floor, they decide to join the crew of Skow; that is, if Jake and Jacqueline don't kill each other first!
210 An Offer You Can't Refuse
(W) ?; (D) ?
Guest Cast:
Southern California garbage conflict, Brad is forced to fight in a boxing match in order to regain the Skow.
212 Refuse Man
(W) ?; (D) ?
Guest Cast:
Vying for garbage hauling contracts off the coast of Washington State.
UNFILMED SCRIPTS
214 Filthy Trash
(W) ?
215 Garbage On The Dock Of The Bay
(W) ?
216 Plumbing The Depths Of Garbage
(W) ?
217 Trash Talk
(W) ?
Obnoxious radio talk show host.
218 The Castaways
(W) ?
Proposed Guest Cast: Alan Hale [Skipper], Bob Denver [Little Buddy], Dawn Wells [Mary Ann]
Somewhere in the South Pacific, the Skow encounters long-marooned castaways who are endangered by cannibals.
219 Chinese Junk
(W) ?
The Skow crew and Chinese drug lords cross paths.
221 The Wretched Refuse Of Your Teeming Shore
(W) ?
After Jake gains a large inheritance from a deceased uncle, someone claiming to be a long-lost relative shows up.
222 Everything You Ever Wanted To Know About Garbage
(W) Donald P. Bellisario
Second season cliffhanger.
SYNDICATED MOVIE
Skow ­ Adrift In A Sea Of Garbage (fall 1993, syndicated)
Executive Producer: Michael Sloan
(W) Michael Sloan; (D) ?
Cast: Richard Tyson [Brad Lance], Ernest Borgnine [Pete Skowinski]
The only cast member from the original Skow to star in this made-for-syndication movie was Richard Tyson, reprising his role as Brad. The Skow is now in the Black Sea under the command of Brad, who bought the vessel from Pete Skowinski (Borgnine in a flashback cameo) [viewer's note: it was established in the series that Jake had already purchased the Skow from Pete]. The new crew is now looking to get rid of the immense amount of garbage that was generated under communism from the recently freed Eastern European countries and former Soviet republics. This attempt at re-launching the series did not generate much interest in the viewing audience; recently however, nostalgia has rekindled interest in the show, generating several fanzines.

| | |
| --- | --- |
| Last updated on 2-18-2005 | |