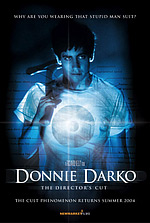 *** THIS REVIEW CONTAINS SPOILERS ***
Donnie Darko: The Director's Cut [Date]
Dir: Richard Kelly
Writer: Richard Kelly
Cast: Jake Gyllenhall, Holmes Osborne, Maggie Gyllenhall, Mary McDonnell, Patrick Swayze, Noah Wyle, Drew Barrymore, Jena Malone

Having recently discussed this film's oddly high placement on the Internet Movie Database's Top 50 Science Fiction films list, and having missed it during its extremely short stay in local theaters during its original 2001 release, I couldn't pass up the opportunity to catch the Director's Cut when I saw that it was playing in Kansas City when I was on vacation there in early October.
Donnie Darko (The Director's Cut) is a...fascinating...film. I'm not sure if I can describe it any more effectively than that. Walking out of the theater, I thought the film was a muddled mess, full of disjointed images and unconnected themes and ideas. In the days since watching the film, though, I can't stop thinking about it, and it makes more sense and has more resonance now than when I originally watched it.
This debut effort from writer/director Richard Kelly is a mixture of crude teen comedy, angsty drama, horror, surreal mind trip, science fiction, and philosophy. My biggest problem with the film is that it tries to be too many things to too many people. Jake Gyllenhaal stars as Donnie Darko, a troubled, schizophrenic, heavily-medicated teenager in a typical suburban family in the fall of 1988. Donnie, compelled beyond reason to leave his home at night and find himself in other neighborhoods when he awakens in the morning, begins to be haunted by images of a demonic 6' rabbit named Frank, who convinces Donnie to be out of his home on the night that a jet engine falls from the sky and destroys his bedroom. Frank tells Donnie that the world will end in 28 days, and then convinces Donnie to engage in acts of escalating vandalism and violence. Becoming more and more alienated from the world around him, Donnie's only anchor to reality is his girlfriend, Gretchen, the new girl in town. As Donnie becomes obsessed with trying to discover what Frank is hiding from him, while still feeling compelled to act on Frank's increasingly bizarre suggestions, he begins to piece together an explanation for all the insanity that stems from a time-travel sub-plot. In an emotional and crushingly powerful final 15 minutes, filled with moments of horrible loss, shock and acceptance, Donnie makes a fateful decision about how to "fix" his broken world.
The performances in this film are uniformly excellent. Gyllenhaal is the centerpiece, and he brings an amazing combination of innocence, creepiness, powerlessness and desperation to the role of Donnie. The other members of his family, particularly Holmes Osborne as his father, Mary McDonnell as his mother, and Maggie Gyllenhaal as his sister, are absolutely perfect, as is Gena Malone as Gretchen. Other supporting characters -- the liberal English teacher crushed by a conservative school system (Drew Barrymore), the caring yet cautious science teacher (Noah Wyle) and the sicko motivational speaker (Patrick Swayze) all hit their marks spot on. The one role that grated on me was the incredibly stereotyped gym teacher (played by Beth Grant) whose conservative campaign sets in motion a chain of negative events. Otherwise, the characters all seemed pretty realistic and were all well-done. The soundtrack to the Director's Cut was beautiful, particularly the wrenching use of Gary Jules' take on Tears For Fears' "Mad World" in the final montage of the film. I am still haunted by the images of all the characters coming to terms with their fates. The directing, editing, cinematography, special effects and all other aspects of Donnie Darko are quite good.
I have no idea what changes have been made from the original in order to release this Director's Cut, but I'm curious to watch the original to find out. In the end, I would have to say that Donnie Darko (The Director's Cut) is a compelling, confusing, and ultimately thought-provoking film, with an ultimate message about the power of personal sacrifice. I do recommend the film, and I look forward to seeing it again myself to find out if I gain new understanding into Kelly's cinematic vision, or whether I'm giving too much credit to the film. An official website exists for the film at www.donniedarko.com.